As we look back on the past 12 months, the advice that we gave last year – that we should all hold on to the positives – seems very inspired. Because despite a pandemic that is still ongoing, 2021 had some treats in store for us.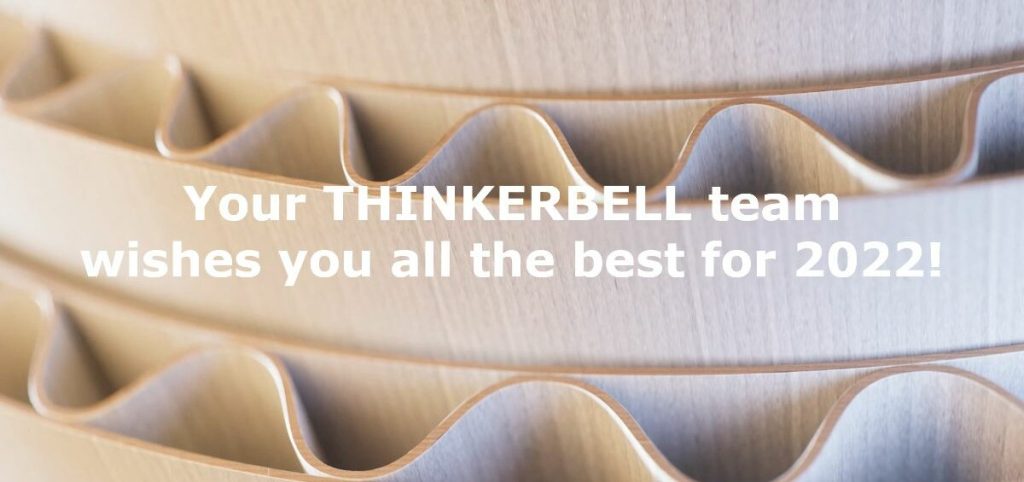 "We're getting by": if a phrase could sum up the past 12 months, this would be it. Not being happy to simply 'get by', our employees made every effort to ensure that we did better than that in 2021. Now that the time has come to take stock of what we have achieved, we are proud to share our latest innovations, partnerships, and successes both big and small.
Highlights of 2021
POS materials tailored to your sector
Because products are displayed differently in pharmacies than in hypermarkets, because vacuum cleaners, champagne and tools each require a different approach when it comes to promotions, Thinkerbell has successfully developed specific, sector-based approaches to ensure brand visibility at the point of sale.
Want to learn more? Find out what Thinkerbell has to offer specific sectors like pharma or retail.
A new circular, modular range
In January 2021, we launched the first circular, sustainable and 100% recyclable display: the ultimate new environmentally friendly POS tool. The range is also durable and infinitely modular, so it is not for nothing that it was named Infinity.
On-time deliveries
While the shortage of materials, especially cardboard, has been acute in recent months, we have managed to ensure all your deliveries within the usual time frames.
In 2021, we also responded to the rising costs of cardboard and transport by increasing our stock and insourcing as much as possible, for example by creating our own packaging boxes.
What's on the cards for 2022? We know that we will see further shortages, so we have planned for this scenario to prevent any impact on our customers.
Positive results
Despite the generally downbeat environment, our teams have remained united and have shown remarkable dynamism – an achievement we can be proud of.
Thanks to them, our group proved resilient to the impact of COVID-19 and even recorded a 10% increase in turnover compared to 2019. Similarly, our Dutch subsidiary managed to continue its growth and recorded a 35% increase in turnover in the space of two financial years.
This confirms the power of our one key partner and one-stop-shop approaches.
Today, more than ever, we are committed to giving you the peace of mind that will allow you to concentrate fully on your core business.
I wish you a merry festive season and all the best for 2022.
Pascal Vandecaveye
CEO