Infinity is 'the' circular standard display for POS advertising. There are at least 9 reasons to opt for Infinity for your brand's or your customers' retailtainment.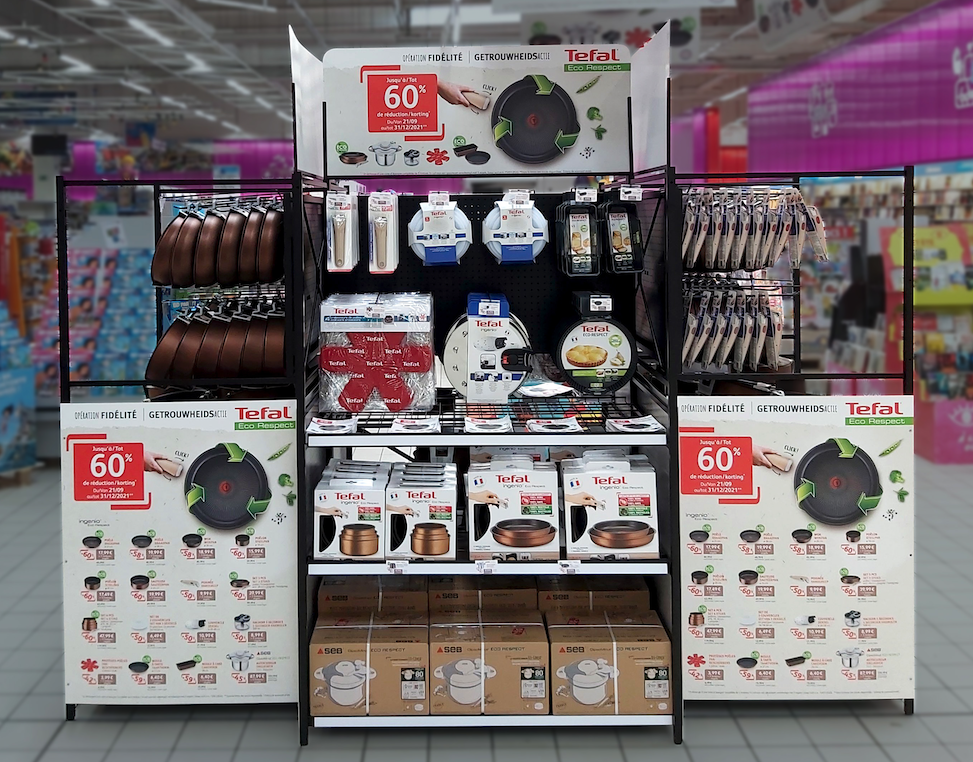 1. Infinity suits all products and all locations
Infinity is a standard structure that suits all products, whatever their size or shape, as it comes in three sizes – small (600 x 400 mm), medium (800 x 600 mm) and big (1,200 x 800 mm).
2. It is modular
Want to use a gondola head? Sure thing! Prefer an island or blitz zone? No problem! Low or high unit? Up to you! In short, Infinity can be tailored to any type of promotional campaign.
3. It is sturdy
No more displays that buckle under the weight of your products are likely to topple over at the slightest touch or have a limited load capacity. Thanks to its sturdy metal structure, Infinity can withstand any situation. The same applies to its shelves, hooks, and accessories.
4. Infinity is circular
All the materials used in the structure and POS fittings of Infini tydisplays are full – and infinitely – recyclable. Its high-quality, sturdy design means that the range can be reused for multiple marketing campaigns, even at different sites. It is easy to assemble, disassemble and reassemble. Choosing Infinity means consuming less and better!
5. It is made in Europe
Infinity is manufactured entirely in Europe, further enhancing its sustainability credentials. This means you can significantly reduce your carbon footprint!
6. It is infinitely customisable
You can customise your furniture with grids, shelves, perforated plates, hooks and accessories. You can even integrate LED lighting and/or screens. When it comes to colours and POS fittings, the possibilities are endless.
7. Guaranteed wow effect
Infinity displays offer you infinite communication possibilities, giving your brand identity an extra boost. For sheer size and style, this POS solution is hard to beat.
8. Quick delivery times
As Infinity is made in Europe, the turnaround time between placing your order and receiving your materials will be no more than two to six weeks.
9. It is a one-stop shop
In other words, from design to production, including printing, assembly and placement, Thinkerbell takes care of everything for you!