Launching a brand-new healthy candy concept is not easy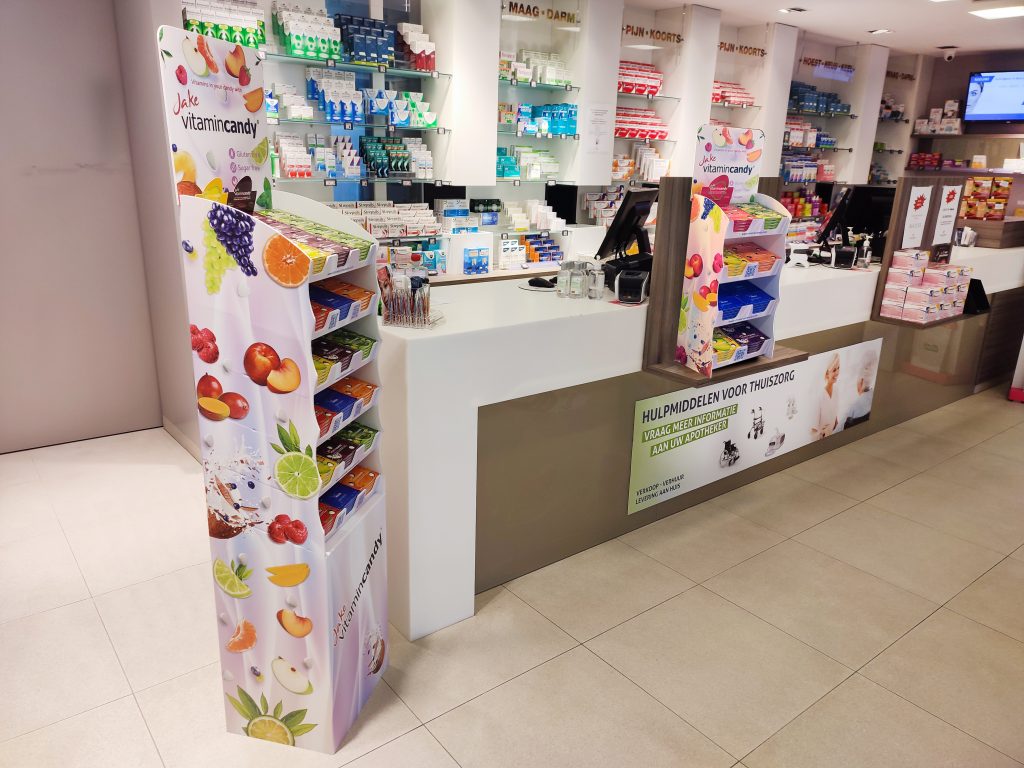 Wanting to give its new product every chance of success, start-up Jake VitaminCandy sought out a partner who could cleverly showcase its innovative range of vitamin-packed sweets from A to Z.
Budget-friendly buzz
Jake Vitamincandy's new breath fresheners are rich in vitamins, 100% vegan, gluten and sugar free, and come in a range of delicious fruit flavours. That makes them suitable for everyone, even diabetics with vitamin deficiencies. And there are only three calories in each one!
From the outset, the start-up's founders wanted to adopt an exclusive approach to marketing their range and highlighting the properties of their drops. Moreover, as the start-up was still in its launch phase, it was vital that they showcase their products in displays that could be easily changed.
"We needed to be able to give our range a new look quickly," confirm co-founders Dimitri and Carlo. "This meant that metal or wooden displays were out, as their lifespan is just a little too long and their cost doesn't fit in with our budget right now." So Thinkerbell offered them a creative alternative: floor and counter displays made of forex. The high-end look of these displays allowed for an exclusive approach to marketing while sticking to the budget.
Open and transparent communication
Providing advice and finding solutions for our clients is part of Thinkerbell's DNA, something that was particularly appreciated by Jake Vitamincandy. "During our first meeting with the Thinkerbell account manager, he explained in detail how we would work together. He gave us a tour of the company and it immediately became clear that everyone in the team would proactively work with us to find the solutions that best met our needs. Open and clear communication was key. This was one of the reasons we chose Thinkerbell. That and the stylish creations, of course."
Jake Vitamincandy's floor and counter displays can be seen in AD Delhaize, Spar and Carrefour Market stores and in numerous pharmacies throughout Belgium.
The unique advantages of working with Thinkerbell
A single point of contact
Your entire project is managed by a single point of contact who knows your products, needs, budgets and preferences inside and out. They take care of everything, from A to Z.
The peace of mind of your POS partner
Thinkerbell takes a faster, more cost-effective approach, manufacturing displays in its own workshop and charging zero agency fees.
The creativity of the design team
Thinkerbell's creative studio works with you to conceive and design your POS project, so you can rest assured that everything will go to plan.
Are you also looking for POS materials to promote your products?