A beach bar where you can enjoy (in moderation) a cool bottle of Corona: that's the experience AB InBev France wanted to offer fans of refreshing beers.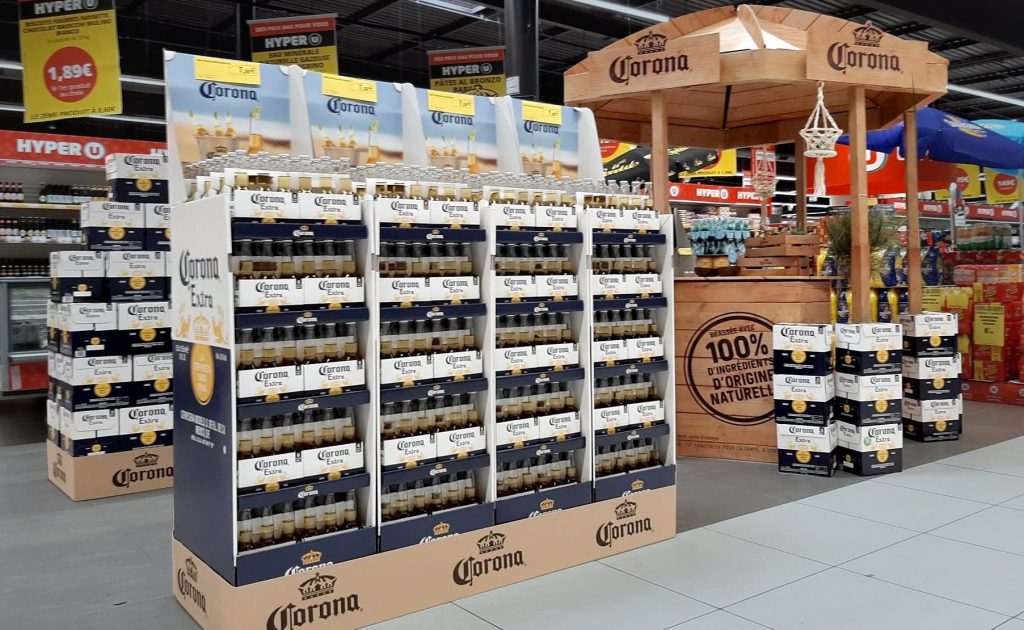 Thinkerbell's studio designed a range of fully recycled and recyclable cardboard elements to guide supermarket shoppers to this 'outdoor' bar, creating a plastic-free, premium theatralisation in keeping with the famous brand's branding guidelines. Our teams designed and manufactured totems with arrows, a giant tasting stand, a kiosk, crates and a rear wall, giving our client (AB InBev France via ADM Promotions) complete peace of mind.
Initial client brief: Create premium but affordable elements, avoiding any use of plastic. Everything had to be made entirely of cardboard in line with the new concept developed in 2022 by AB InBev for its off-trade VIP campaigns for Corona.
Thinkerbell's solution: Comprehensive theatralisation of the space with totems with arrows, a giant bar, displays showcasing packs of Corona and crates, all of which were made of recycled and recyclable cardboard.
Scope: Large retailers in France
Year: 2022
Are you also looking for POS materials to promote your products?