Digital activation agency Engaged has launched an interactive competition at the point of sale to showcase the new LEGO Friends line in DreamLand stores – and called on Thinkerbell's POS expertise to develop the displays and print media for the campaign.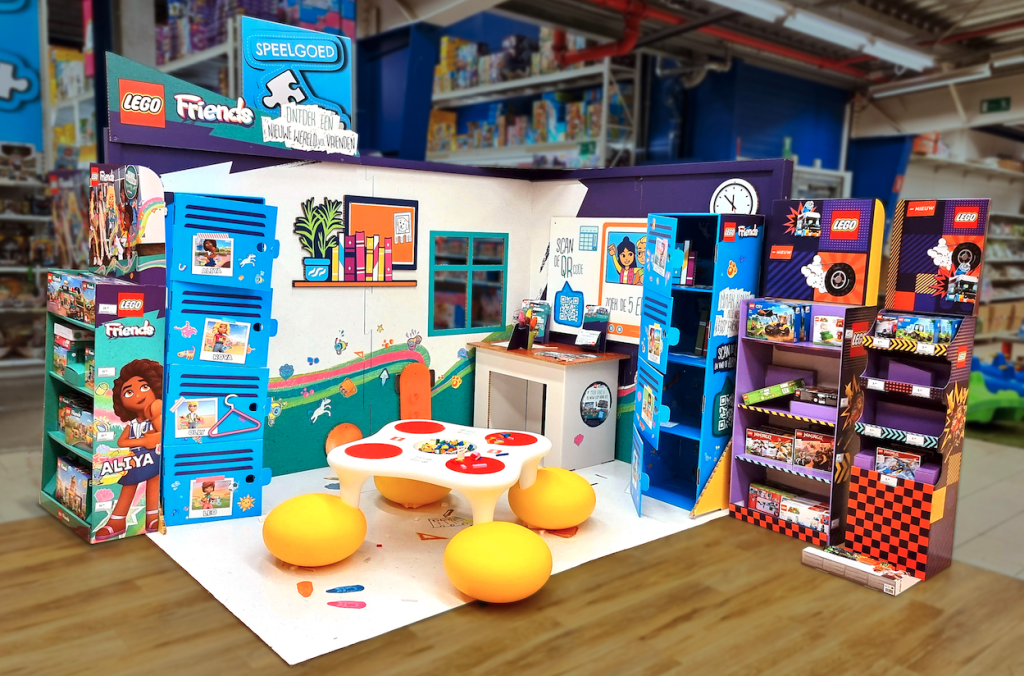 To celebrate the launch of a new generation of LEGO Friends, LEGO wanted to give children a chance to discover the new LEGO Friends universe up close. To that end, digital activation agency Engaged devised an interactive competition in which players had to find and scan a number of LEGO Friends elements in a pop-up classroom. Based on Engaged's creative concept, Thinkerbell developed a POS installation that includes life-size printed walls, a poster, displays in the form of lockers and a lectern – as well as lots of fun LEGO Friends accents.
The interactive aspect of the installation required a special approach, says Cynthia Van Wiele, Project Manager at Engaged. "Children and their parents had to be able to freely walk around the installation. That meant the displays not only had to attract attention visually, but also had to be able to take a beating and be 100% safe." With that in mind, Thinkerbell opted for sturdy yet lightweight materials such as Beelite and corrugated cardboard, as always focusing on sustainability and ecological impact. The result? A unique interactive installation where children could safely discover and explore the new LEGO Friends universe.
In-store installation
Thinkerbell, together with merchandising partner Profield, installed 48 modular theatralisation tailored to the available space at each point of sale – all in just one week. The complete installation was installed in 38 DreamLand stores, including walls, lockers, a sign, folder holders and wobblers, while a compact version without walls were deployed in 10 stores. Thinkerbell also produced the accompanying leaflets and friendship books that shoppers won if they were able to scan all the figures. The installations were on display from early January to the end of February in DreamLand stores across Belgium.
Where digital meets print: Engaged and Thinkerbell worked together on a competition concept for LEGO Friends! Want to know more? Read all about it here.